For all the pro-life student activists out there participating in today's Pro-Life Day of Silent Solidarity with the unborn: Take heart.  You're winning.
Why do I say this?  We are constantly reminded that Roe v. Wade is still "the law of the land."  I know that Planned Parenthood still receives over three hundred and sixty million dollars of taxpayer funding annually – over 1/3 of its budget.  I know that Planned Parenthood and its allies are aborting babies at such a rate that over 1.2 million children in the U.S. alone will be denied life this year because of their work.  So how can I claim that you are winning the war when it seems that you're charging up such a steep hill?
This.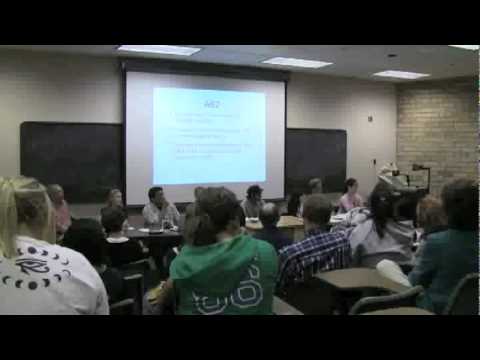 Listen as the Planned Parenthood representatives struggle to wrap their arms around scientific ignorance.  This is all they have.  Faced with a growing scientific understanding of how life develops in the womb, all they can do is fall back on the postmodern game of elevating personal feeling over facts.
Here are a few choice quotes:
 "Science cannot be applied to my body."  (I generally hope that my doctor is applying science to my body.)

"Science is not ultimate truth.  That's why it's science."  (I agree that there is a real ultimate Truth, but I'm not sure that's what she meant – especially because I don't think it would help her argument.)

"The living breathing sentient being that has control over her body is the one we listen to, not science." (So people who lack control over their bodies are not worthy of life?)

"Their (pro-lifers) researchers say that the heart beats in 21 days.  There's people on our side and research that says that the heart doesn't beat until 24 weeks."  (The Mayo Clinic says "Just four weeks after conception … your baby's heart is pumping blood."  And I've listened to my own childrens' heartbeats earlier than 24 weeks.)

"We need to focus on the birth control issue rather than the photos or scientific evidence that [the pro-life speaker] just gave you."  (When I hear him say this I hear this).

"Anyone who is born with an x and a y chromosome is biologically female." (Perhaps this came from the same doctor who says that the heart only begins to beat at 24 weeks?)
But it's not just these Planned Parenthood representatives that have such a difficult time battling science.  Pro-abortion elected officials also must work very hard to ensure that they don't let facts get in the way of their ideology.  Listen as Rep. Sheila Jackson-Lee describes an unborn child's heartbeat as "sounds that might discourage this needed action" in the recent House debate on the Protect Life Act.
So, to sum up the pro-abortion mentality:  What is that thing in a woman's body?  We know it was placed there because of the actions of two people and when it comes out it certainly seems to be a person.  But there just is no settled scientific answer as to what that thing is.  It's a riddle wrapped inside an enigma really.  Science can never tell us what it is so we'll just have to agree to disagree.
Of course, the temperature trends of the Earth over the past several millennia and the factors that cause their change is such settled scientific fact that merely to type this very sentence implicitly questioning this overwhelming scientific consensus might be an act of planetary treason.
When the pro-abortion lobby is reduced to pleading with us to ignore the facts and inventing fake science (24 weeks?!) to defend their ideological commitments to ending unborn lives (which happens to be very profitable) they're on the ropes.
Take heart.  And don't grow weary in doing good.